The spectacular scene, live animals, farm market, traditional costumes and dances, not only this offered the largest open air performance of the opera Bartered Bride, which took place on Friday 7th of September 2018 at the Republic Square in Pilsen.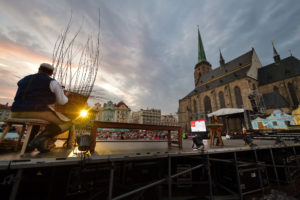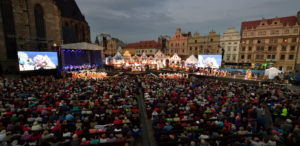 Bedřich Smetana wrote the opera The Bartered Bride as a fun folk spectacle, which takes place at one of the former village common of Pilsen. The director Tomáš Pilar with stage designer Lukáš Kuchinka used the historical houses of the Republic Square as a backdrop to bring the original atmosphere. The opera was presented in the version from the year 1870 but accompanied by the latest technologies.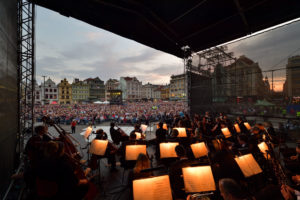 Preparations for the show took almost a year. "It was like assembling a mosaic. Each task represented many hundreds of hours of work in individual rehearsal rooms, the production of backdrops and costumes in theater workshops, and so on. In the square we had three days to put these individual pieces together", concluded director.
The company RENTAL PRO has provided a complete technical solution to this event. We've built a magnificent open-air scene, panoramatic stage for the Philharmonic orchestra. All the lighting was by the ROBE company, it was cleverly spaced around the area, used to illuminate the scene, actors, squares. The whole show was run by the Grand MA Light console. The magnificent layher towers spread sound all over square. Modular sound system NEXO STM M28 served great for these purposes. The whole show was managed with YAMAHA CL5 and CL3 consoles, controlled by the network DANTE.
This show was displayed on LED screen for better audience comfort.